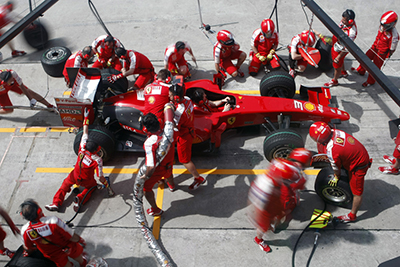 Team Coaching
Because when the challenge is about the team, it's not just about the individuals in the team. It is about the combination of team members and those team members within the dynamics of the team itself.
As such, it softly matters what the team members do (or not) each on their own, how motivated (or not) they are each on their own, how productive (or not) they are each on their own, how collaborative (or not) they are each on their own, hence how they are each on their own; and it matters more what the resultant of all their unique individual interactions does to their ability to carry their next engagement within the dynamics of their relationship – altogether as a system. It is the invisible web created by those interactions that is the client of the system coach.
The deep belief behind system coaching is that a system is naturally resourceful, creative and whole. As such, all answers are within the system and the system will generate itself moving forward in the way it sees fit once it is revealed to itself. That's the core of system work.
What
Created by the Center for Right Relationship (CRR) and accredited by the International Coach Federation (ICF), the Organization and Relationship System Coaching (ORSC) approach brings to you what other types of coaching and team buildings cannot: a heightened Relationship Systems Intelligence that equips your teams with sustainable abilities to overcome their challenges.
Whether you're a board of directors or a top management team seeking to outperform their track record, a global business team seeking to boost their collaboration, a company going through a transformation of some sort, a team sailing through change, or a family leadership team seeking more synergy, Organization and Relationship System Coaching is the result-driven tool-rich approach that will make you response-able.
Some of the challenges that ORSC can be called for are: trust, change management, envisioning, creative problem solving, communication, info sharing, collaboration, role ambiguity, planning, confusion, burnout, toxic teams, facilitating bringing a team together for an initiative, top team tune ups, culture setting, cultural transformations, conflicts, transformations of all sorts, rightsizing recovery, alignment, multicultural and diverse teams, strategy integration and execution hurdles, team spirit development, corporate climate optimization, collaboration, family team leadership, team synergy and any other team-related roadblock.
How
Everything starts with an assessment using various tools and models from team reports to one-to-one interviews depending on team size and client agenda.
Clarification and alignment over outcomes.
Preliminary Coaching Plan – with a dance-in-the-moment agility of tackling new agendas as they emerge.
Follow through transformation and support the system with more coaching (both system and one-on-one when needed).